Bathroom Safety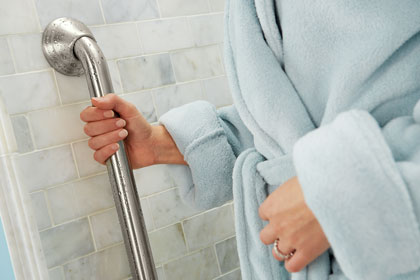 AN UNSAFE BATHROOM CAN BE DEADLY
Bathrooms mostly have slippery tiles and hard surfaces, bathrooms are one of the most dangerous places in homes. It is estimated 234,000 nonfatal bathroom injuries occurred in the U.S. among people 15 and older. We need to protect ourselves and our families by following these tips.
Get rid of your slippery and old rugs. These slippery floor coverings are the worst. If you do not want to replace your unsafe existing rugs in the bathroom then you must secure all loose rugs with double- sided tape, to the bathroom floor.
Tubs are very slippery especially while taking a shower, soaps and shampoos make tubs dangerous, to prevent falls place nonslip strips, mats in your tub and shower this will prevent dangerous falls. To avoid tripping in the tub, make sure to secure any loose corners on the mats.
Wash the tub or the shower after each shower to avoid build up soap or mold residues.
Make sure your bathroom floor is dry and make sure it has no water on it. A good size weighted shower curtain will help to avoid water spills during the shower on to the floor.
Installing grab bars is a must. Install grab bars or rails in or around the tub, shower and toilet are for support and to avoid accidents. When grab bars are installed properly and securely, they'll help you with your balance as you move to stand or sit and it gives you something to hold on to in case you do slip. They come in a variety of lengths, Please keep in mind  towel bar or a soap dish are not capable of holding your weight so we strongly suggest not to use them as such. They are not designed to hold your weight.