A PUSH OF A BUTTON CAN SAVE YOUR LIFE!
BUY PEACE OF MIND TODAY FOR ONLY
$93.99

$83.99 ($10 OFF)!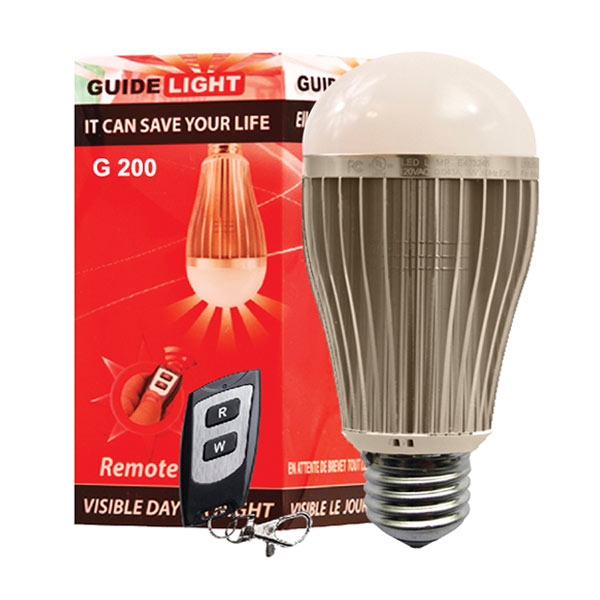 From the Fire Chief in Fox Creek
Personally I had given one of these Guide Lights to my Mom because of my Dads health and she had to use it the day they took him into the hospital. We had an out of town AHS crew in from Grande Prairie and they commented on how it worked. Our Council loves the idea and we have a corporate sponsor to cover the costs for an identified portion of our population. So thanks for bringing this to us. – Fox Creek Fire Chief
Our top product – The Guide Light is the most powerful cost – effective way of keeping you and your loved ones safe and making your house noticeable during an emergency.
Emergencies can happen at any time – they are not reserved for a certain class of people – medical emergencies do touch our lives either personally or via a family member, friend or neighbor. A heart attack, stroke, ill child or any type of emergency can strike at any time so why not take every measure possible to protect your most valuable asset — your personal well-being and that of your loved ones?
Envision these very real scenarios:
You feel pain in your left arm and collapse on the floor
You witness your father slurring his speech and he becomes disoriented
Mother has fallen and can't reach the phone to call for help
Your child has fallen down the stairs and she can't move
Every Second Counts!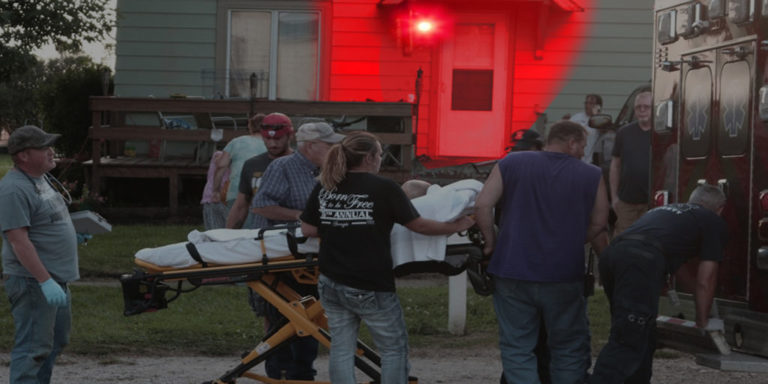 How does Guide Light work?
The application is simple:
The Guide Light bulb is installed in an outside light socket.
In the event of an emergency, you place a call to 911 or your neighbor.
The individual then activates the Guide Light via a remote and the outside bulb turns from an ordinary white light to a flashing red life saving light.
The flashing light signals to first responders and neighbours that someone in that home is in need of emergency assistance.
Guide Light uses 220/110 volt, it is only 3 watts and is ULC and UL certified.
The remote which is FCC certified is set to send signals of up to 50 meters in distance without any obstacles and can turn the light ON or OFF within that range.
When the (W) button on the remote is pushed it will transmit a signal to the receiver inside the light to turn the light ON or OFF and when the (R) button is pushed it will send a signal to change the white light into a red flashing emergency light. After help arrives the blinking light can be turned off simply by using the remote.
Guide Light is the only light bulb in the market today that is capable of switching from an ordinary light to an emergency light.
Guide Light is by far is the most effective way of bringing help right to your door in an emergency.
Guide Light is the most powerful cost effective way of keeping you and your loved ones safe while making your house noticeable during an emergency. We want every family in North America to own a Guide Light! We have taken measures to develop it at a reasonable price. Guide Light is a gift of life and peace of mind. Purchase one today!
Still not sure? Hear it from our customers that have used Guide Light and visit the Video
When I saw Guide Aid Light I knew it was a game changer. I knew First Responders would be relieved to see a house with this flashing red light in an emergency. People have no idea how many obstacles we have to go through to get to them, how difficult it can be and how much valuable time is wasted in an emergency looking for them. Every second counts looking for a house address and now with this light we can get to the callers faster than ever. Thank you Guide Aid Light.

Fire Chief

Recently I purchased a Guide Aid Light for my Grandmother at your show. Your salesperson was very helpful, he demonstrated the light and answered all of my questions. I'm at ease now knowing she's safe.

I absolutely love Guide Aid! What a fantastic idea. I discovered your light when it was being demonstrated at an Open House at a local Fire Station. It was so easy to use that I purchased one for my home. I have notified my neighbours to watch for my flashing red light. My husband and I tried it and it works great. Thank you so much for keeping me and my family safe.

My overall online shopping experience with Safety Aid has been excellent. Your product is very helpful for my family. I bought a Guide Aid light for my Dad who has many health issues. I would highly recommend Guide Aid to people I know, I even promoted it on my street.

Guide Aid was being demonstrated at a Fire Prevention show I attended and I was very impressed with the product. I have started to promote it in my areas as a Fire Chief and also recommended Guide Aid Light to Crime Stoppers. This product works. We have tested this light in the dark and in poor weather conditions and the results were great. It's visible from a far distance, our crew could easily identify the home in crisis. All homeowners should own one. Guide Aid is a life-saving Light.

I had no idea how important a simple light was and how it can help to find an address so much easier. Just last week I had a hard time finding a house address in the dark. I can see why it would help me if I had fallen in the house. This is an awesome product; I couldn't resist I had to buy one. The price was very reasonable and it makes it more appealing because there are no monthly fees.

A friend of mine showed me your Guide Aid Light and I had to buy one. It's a great product and it works. My adult children say they worry less about me now that I have this installed.

Thank you Safety Aid, I received my Guide Aid Light today. The instructions were straight forward and I couldn't believe how easy it was to replace my light bulb with Guide Aid Light. My family and I believe it is money well spent.

I absolutely love Guide Aid light! It is easy to use, very powerful, the price was reasonable and most importantly I have greater peace of mind. Who would've thought a simple light can save your life. I bought two lights, one for my family and one for my parents.

Received my Guide Aid light and wanted to say thank you. I was visiting friends in Toronto and when I saw your light I thought what a great idea for my parents so I ordered it and I received it without any problems or delay. Your salesperson was right, replacing the light was so easy. Thank you.
BE A HERO, HELP A HERO!
With each purchase of a Guide Aid light you are keeping your loved one safe and 20% will be donated to help first responders.